melanie gukert

Melanie began her yoga journey in 1998 in order to supplement a rigorous college Volleyball career. She initially practiced yoga to increase flexibility and immediately noticed the physical benefits of her yoga practice, improving her performance on and off the court. Through her years of personal practice, Melanie has experienced the therapeutic benefits of yoga for both mind and body, helping her become more mindful and compassionate towards her own body. She believes that yoga should be accessible to everyone, regardless of gender or age. She encourages an attainable approach to yoga, rooted in alignment, breathing, and mindfulness practices. She is passionate about sharing her love and practice of yoga with all.

KIDS
It's hard being a kid these days. Yoga is not just for stretching which is a perception that many people have, yoga is a healthy exercise routine, and it is fun to practice. A strong and active body is a healthy body - from head to toe. Children deal with many distractions, temptations, over-stimulation and peer pressure.
YOUNG ATHLETES
Every athlete can benefit from an integrated yoga training program, irrespective of sport or discipline. The benefits of doing yoga, especially starting at a young age, are becoming more and more apparent in our general populations. Athletes are recognizing these benefits as well. Yoga can aid in helping each individual athlete reach peak performance, optimize recovery and minimize the likelihood of injury.
YOGA BENEFITS FOR ALL
EXPAND MOBILITY & RANGE OF MOTION
BREATH & BODY AWARENESS
ELEVATE METAL FOCUS & DISCIPLINE
REFINE FOCUS & AGILITY
AVOID COMMON INJURIES RELATED TO LIFE & SPORT
IMPROVE COORDINATION & BALANCE
HIGHER UNDERSTANDING OF THE SCIENCE & FACTS BEHIND STRETCHING
PROMOTE EFFICIENCY OF SLEEP
No
OMS
about it. Training sessions incorporate the physical and mental benefits of yoga -
without chanting or religious philosophy.
Quite simply, I promote a safe, non-judgemental environment for every athlete while
encouraging the mental discipline and focus necessary to compete at peak performance
.
Would love to hear from you. Please feel free to contact me with any questions @
hello@modernevolution.ca
Powered by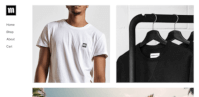 Create your own unique website with customizable templates.